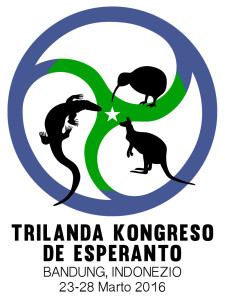 Are you an Esperantist?
Would you like to have many friends from many countries?
Would you like to experience the Esperanto event?
Would you like to have a fun moment, as well as a chance to improve your Esperanto speaking capability?
Should you answer "YES!" then it is important for you to join this 3 Countries Congress of Esperanto: Indonesia, Australia and New Zealand. The registration opens from June 2015 to February 2016.
Venue:
Image & Resto Hotel
Jl. Lengkong Besar 145, Bandung 40251
  
  (+62) (022) 4213461
  
  Hotel website
As you expect to enroll this event within your organization, please contact your country-level enrollment form. If you are Indonesian, please switch to Bahasa Indonesia and register from there. If you need specific services, i.e. information regarding other hotels or hostels around the venue, or transportation to the congress venue, please email to   
  estraro-indonezia-esperanto-asocio@googlegroups.com or call this number  
  +628111773387.
We'll see you all in this grand conference! See you!
---